Obtaining cryptocurrency is one thing, but how you store cryptocurrency is another and it's a completely different set of skills and expertise.
This guide will show you how to safeguard your funds, choose the best wallet, and avoid the most popular crypto security risks.
What Is A Crypto Wallet And How Does It Work?
A cryptocurrency wallet is a piece of software that stores your public and private keys, allows you to send and receive digital currencies, keep track of your balance, and communicate with different blockchains. To control and protect your cryptocurrency investments, you'll need a cryptocurrency wallet.
There are several different types of cryptocurrency wallets, but the most important distinction is whether they are hot or cold.
A hot wallet is an online wallet that can be accessed at any time.
A cold wallet is an offline wallet that is not linked to the internet. You will continue to collect funds at any time, but no one can send them to you.
All online cloud wallets, most smartphone and app wallets, and exchanges are considered hot wallets.
Hardware wallets, offline held paper wallets, USB and offline similar data storage devices, and even physical bearer objects like physical Bitcoins are examples of cold wallets.
Cold and hot wallets are used for the majority of cryptocurrency users. Hot wallets are convenient for daily trading, while cold wallets are better for long-term crypto asset storage.
But before we get into the various wallets, let's go over why it's not a smart idea to keep your digital assets on exchanges in the first place.
The Different Types Of Cryptocurrency Wallets
Paper, hardware, cloud, and online wallets are the four types of cryptocurrency wallets. Let's take a look at each of them individually.
Wallets made of paper
Cold storage is the general classification for paper wallets. A physical copy or paper print of your public and private keys is referred to as a "paper wallet." It may also refer to software that generates a pair of keys as well as a digital file for printing. In any case, paper wallets will provide you with a high degree of protection. To transfer your funds, you can either import your paper wallet into a software client or simply scan its QR code.
If your preferred cryptocurrency has a paper wallet, you'll most likely find instructions on how to build one on the project's website or community page. MyEtherWallet is a one-stop shop for creating a paper wallet for Ethereum and other ERC-20 tokens. To build a paper wallet for Bitcoin, use the Bitcoin Paper Wallet Generator.
Paper wallets are cold, but they come with their own set of threats. Paper wallets, for example, are easily broken, burned, copied, and photographed, and require mutual confidence if you aren't making one yourself. People laminate paper wallets, make several copies and store them in various places, engrave them on metal or other durable materials, and so on to make them less fragile.
Bear in mind that holding electronic copies of your paper wallet on your computer is a bad idea. The paper wallet's private key should always be kept offline. Keeping your paper wallet files online is just as secure as using a hot wallet.
Cloud Wallets
By definition, online wallets are hot. Your funds can be accessed using a cloud wallet from any machine, mobile, or venue. They are extremely easy, but they store your private keys online and are thus vulnerable to third-party control. As a result, they are by nature more vulnerable to attacks and theft. Among the most common cloud wallets are:
Keep an eye on Coinbase, Metamask, and Blockchain.info.
Non-custodial online wallets are a safer type of cloud wallets. They're available across the web and apps, but the service provider doesn't have access to your personal information. In most cases, exchange platforms have non-custodial wallets, which allow you to trade your coins in a safe and secure manner. Cloud wallets from the following companies are examples of non-custodial cloud wallets:
LocalCryptos
Bitwala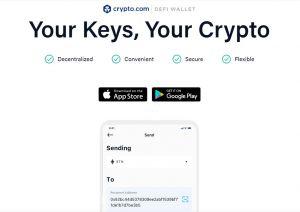 Store Cryptocurrency with Software Wallets
On a personal computer or smartphone, software wallets are downloaded and installed. They've got a lot of cash in their pockets. Both desktop and mobile wallets have a high level of security; however, they cannot protect you from hacks and viruses, so you should try to remain malware-free as much as possible. Mobile wallets are usually smaller and easier than desktop wallets, but both can be used to handle your funds. Furthermore, some software wallets allow you to access your funds from several devices at the same time, such as smartphones, laptops, and even hardware wallets.
Jaxx
Freewallet
Exodus
Electrum Wallet
Infino Wallet
Hardware wallets, unlike software wallets, keep the private keys on an external device such as a USB drive. They are completely cold and healthy. They're also capable of making online payments. Some hardware wallets support several currencies and are compatible with web interfaces. They're made to make transactions simple and straightforward, so all you have to do is plug it into any online computer, unlock your wallet, transfer money, and confirm the transaction. Hardware wallets are thought to be the best way to store cryptocurrency. The only disadvantage is that they are not available for free.
Among the most common hardware wallets are those made by:
The most secure method is to purchase a hardware wallet directly from a manufacturer. Purchasing it from others, particularly those you don't know, is risky. And if you purchase a hardware wallet from a manufacturer, you must still initialise and reset it.
Typically, the wallet you choose is determined by your investment portfolio. Every serious project should have its own native wallet, which should be available on its website, but a multicurrency wallet might be more convenient in some cases. It's important to note that not all multicurrency wallets support all coins. And hardware wallets can only carry a certain number of coins. Famous cryptocurrencies like Bitcoin and Ethereum, on the other hand, have no shortage of wallets.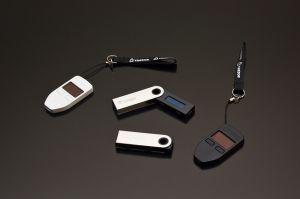 You'll need to secure your private recovery seed phrase until you get a (hardware) cryptocurrency wallet. CryptoTag, which allows you to store seed words on nearly indestructible titanium plates, is one of the most reliable seed word security tools.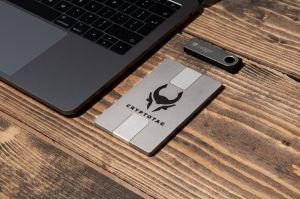 Best Security Practices to Prevent Private Keys From Being Stolen
So you've made the decision to seize control of your crypto assets and store them all in a private wallet. You did an excellent job! However, great power comes with great responsibility, and your ability to stay safe and keep your private keys private now depends entirely on you.
The following are the most common security precautions to take:
Hold cryptocurrency in trade for no longer than is absolutely essential.
Allow the two-factor authentication (2FA) feature at all times.
Choose a pin code that is difficult to guess if you use a hardware wallet, and never post your 24-word recovery sheet online.
Don't brag about your crypto holdings in public using your real name or an address that can be traced back to you. Even if you keep your crypto funds in cold (offline) storage, some thieves are able to steal them.
Just trust what you see on your hardware wallet screen, and double-check everything else on the computer.
Always assume that your computers may be hacked at any moment, so use caution when using your computer or smartphone screen.
In addition, follow these guidelines to reduce the risk of losing your cryptocurrency.
Keep an eye out for phishing websites. Confirm that you're signing in to the correct address, whether you're connecting to an exchange or an online wallet. Many fake websites pretend to be exchanges in order to steal your login information. Often double-check the website address to make sure it's right.
HTTPS is the secure version of HTTP. Only log in to websites that have a valid HTTPS certificate. The majority of legitimate websites have one. Use browser plugins like "HTTPS Everywhere" for added protection.
Make sure you're connected to a secure Wi-Fi network. Never use public WiFi to access your online wallet, swap account, or any other sensitive information. Make sure your WiFi access point uses strong encryption, such as the WPA-2 protocol, even if you're in a supposedly secure place.
Make a distinction between your assets and your liabilities. Do not hold all of your crypto assets in a single location. Using one or more cold storages for long-term holdings and at least one hot wallet for trading and transfers is the safest way to deal with it.
Authentication with two factors. Often use two-factor authentication to protect your accounts. Instead of SMS, use software or hardware 2FA instruments wherever possible.
IP addresses and withdrawal addresses should be whitelisted. If you have a static IP address, make use of it. Ensure that only you have access to your money and accounts.
Crypto Addresses should be double-checked. When you submit a transaction, some malicious programmes will edit and paste an incorrect transaction address. The new address is usually associated with an intruder. It's preferable to be healthy rather than sorry.
Use Security Measures You're Comfortable With. Some people never feel secure, so they go to great lengths to keep their cryptocurrency safe. They forget, however, that their security tools can also lose crypto. Hackers aren't the only ones who lose access to their accounts, funds, or wallets. If you're not into security in the first place, don't overcomplicate it. Strive for a good combination of complexity and security.
On the road to being your own bank, mastering the art of keeping your cryptocurrency safe and protected is essential. It's best if you practise it as soon as possible.